Home Page
IMPROVEMENT OF EQUESTRIAN SKILLS
WORK from the GROUND WITH HORSE
If you feel it is time for new knowledge and/or build on your existing skills, we can offer you individual program adapted to your needs.
IMPROVEMENT OF EQUESTRIAN SKILLS (Arena /Nature)
During the course we will discuss and train in depth aspects of riding such behavior, good psychological, emotional and physical form of the rider and the horse. You will learn how to:
- Get control of the horse's zones.
- Proper work with the reins - sensitive and quick hands.
- Have subordinated horse during riding.
- Keep stable pace and direction of the horse with loose reins to trot.
- Deal with different natural and behavioral circumstances and situations during riding.
Course also includes riding bareback riding in arena.
"WORK from the GROUND WITH HORSE"
Without respect there is no attention.
Without attention there is no control.
Without control there is no safety.
Groundwork is the first and primary essential tool by which you can strengthens your leading position in front of the horse in order to get his respect, attention and establish control.
The training is aimed at acquiring techniques for working with the horse with which to return the attention, respect and trust in horse when needed.
During the program you will:
1. Build the principles of communication with the horse
2. Build your leadership position
3. Acquire control of movements and emotional condition of the horse
4. You have the tools of verification, training and correction of horse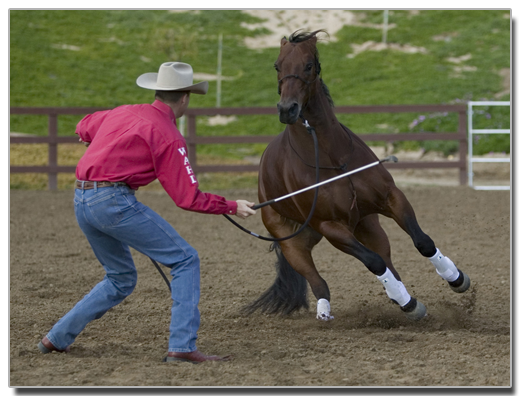 8 hours / month (weekly 2 hour sessions conducted individually with the instructor during the week.) The theory of natural horsemanship is included into the practical activities of the land.
Home Page
© copyright horseman ranch 2016